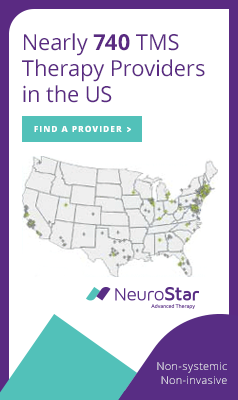 Research over the past several decades on the use of transcranial magnetic stimulation (TMS) as a treatment for depression has led to the FDA-clearance of a TMS device, the NeuroStar TMS Therapy system as a new non-drug treatment option for patients who are battling depression. The NeuroStar system delivers TMS Therapy® which uses  a short pulsed magnetic field to stimulate nerve cells in the area of the brain thought to control mood. Research on depression has shown that TMS Therapy most likely works by increasing the brain's neurotransmitter levels by activating brain neurons.
The NeuroStar TMS Therapy system is the first medical device that is FDA-cleared to provide TMS Therapy for the treatment of depression.  NeuroStar TMS Therapy has been shown to be safe and effective treatment for patients with depression who have not benefited from prior antidepressant medication.* TMS Therapy is available to patients by prescription only.  TMS Therapy is performed as a 37 minute outpatient procedure that under the direct supervision of a psychiatrist while the patient  remains awake and alert. A typical treatmentcourse of requires daily (5 times per week) treatment over four to six weeks.  Adverse effects associated with TMS Therapy are scalp pain or discomfort at the site of treatment.  TMS Therapy will not work for all patients, and patients should discuss the risks and benefits of TMS Therapy with their doctor.
To find out more about TMS Therapy, please visit www.NeuroStar.com. Contact your doctor to discuss if this is a treatment option for you, or locate a TMS Therapy Provider by clicking here.
*NeuroStar TMS Therapy® is indicated for the treatment of Major Depressive Disorder in adult patients who have failed to receive satisfactory improvement from prior antidepressant medication in the current episode.